Recorded: March 16, 2013 — Language: English
Sharing what you know with others is an extremely rewarding experience, and may challenge and develop your knowledge of Python.
I will share my teaching experiences; covering venues, materials, lesson plans, technical difficulties, engagement, and more.
If you've considered teaching Python, this talk will give you insight into what it takes to keep your students engaged, and have some fun.
Recorded: March 13, 2013 — Language: English
Are you a Python-curious programmer? Learn by writing your first project! You'll build a complete quiz creation web application. We will cover topics from data structures and classes, to debugging and testing.
Before the day of the workshop, you will need to have Python 2.7, CherryPy, IPython, and Jinja2 installed. Alternatively, you may arrive at the venue an hour early to receive assistance.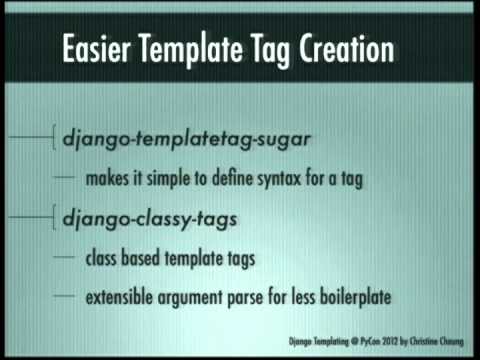 Recorded: March 10, 2012 — Language: English
Django's template language is designed to strike a balance between power and ease of use; learn how to use this balance to create awesome looking websites. This talk will cover the basics and best practices of Django templating, from custom tag and filter creation, to the finer points of template rendering and loading, and even to replacing the default templating engine itself.