Recorded: March 16, 2013 — Language: English
Python is a great language for text processing. Each new version of Python--but especially the 3.x series--has enhanced this strength of the language. String (and byte) objects have grown some handy methods and some built-in functions have improved or been added. More importantly, refinements and additions have been made to the standard library to cover the most common tasks in text processing.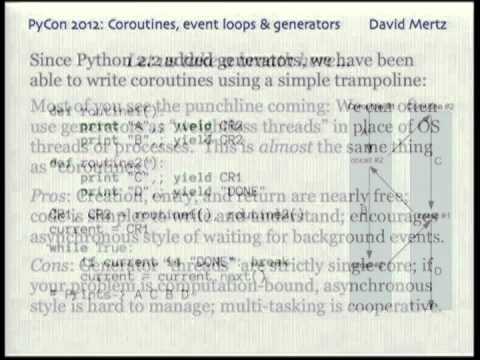 Recorded: March 10, 2012 — Language: English
This talk traces lightweight concurrency from Python 2.2's generators, which enabled semi-coroutines as a mechanism for scheduling "weightless" threads; to PEP 342, which created true coroutines, and hence made event-driven programming easier; to 3rd party libraries built around coroutines, from older GTasklet and peak.events to the current Greenlet/gevent and Twisted Reactor.