Numba is a compiler for Python syntax that uses the LLVM library and llvmpy to convert specifically decorated Python functions to machine code at run-time. It allows Python syntax to be used to do scientific and numerical computing that is blazing fast yet tightly integrated with the CPython run-time.
Python has long played a role in analyzing large scale data. From tightly-knit super-computers running MPI-based applications to heterogeneous clusters woven together with scripts, Python has had a role to play in making it easier to processes data. This tutorial will cover the tried and true techniques as well as introduce new trends.
Accelerators are the hottest tool in high performance computing but applicable to all fields. We present how to use Python's amazing ability to abstract away the low-level boiler-plate code turning accelerators from an exotic curiosity to a daily tool.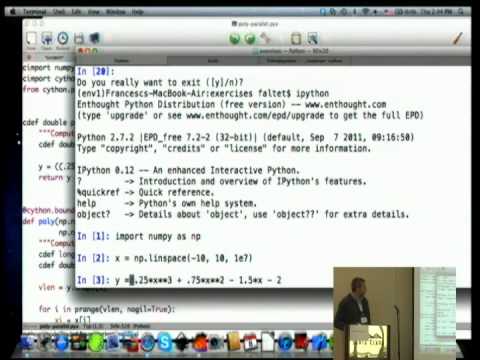 In this tutorial, I will cover how to write very fast Python code for data analysis. I will briefly introduce NumPy and illustrate how fast code for Python is written in SciPy using tools like Fwrap / F2py and Cython. I will also describe interesting new approaches to creating fast code that is leading changes to NumPy on a fundamental level.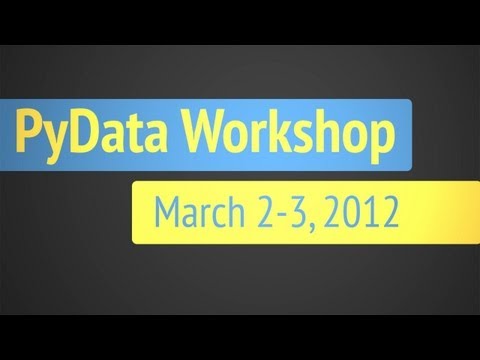 Travis Oliphant, CEO of Continuum Analytics, kicks off the PyData Workshop with a talk on Python in Big Data. Topics addressed include what Python has to offer the world of Big Data, specific use-cases, as well asking why Hadoop is considered the de-facto standard.
Additionally, Travis gives an overview of NumPy and SciPy.
Event:
PyData
Speakers:
Travis Oliphant
Recorded: March 2, 2012
Language: English
Last updated: January 29, 2013