Open source software powers the world. But it defies a lot of conventional expectations about how people organize and innovate. This talk will explore the psychology, sociology, and economics of open source, and how we come together to effectively build things.
Event:
PyCon CA 2013
Speakers:
Alex Gaynor
Recorded: August 11, 2013
Duration: 00:40
Language: English
Last updated: August 31, 2013
Classifying what type of job programmers do can be a challenge. Are we engineers? Are we scientists? Craftspeople? Something else entirely? Are software engineers, software developers, software architects, and programmers all really the same thing? This talk explores the nature of our work, and its relationship to the scientific method, including a dive into epistemology.
Event:
PyCon AU 2013
Speakers:
Alex Gaynor
Recorded: July 6, 2013
Duration: 00:45
Language: English
Last updated: July 12, 2013
You're a programmer, you use interpreter and compilers every day (and twice on Sundays!). But how do these things work? Could you build one yourself? What would it take? Where would you start? This talk takes you through the process, from lexing to interpreting, and leaves you ready to start on your own language!
Django has always had a strong commitment to backwards compatibility, and is used by thousands of developers every day. This means that it's very difficult to make large sweeping changes to Django. This talk is a look at how I'd redesign different components of Django, if I got to do it all over again.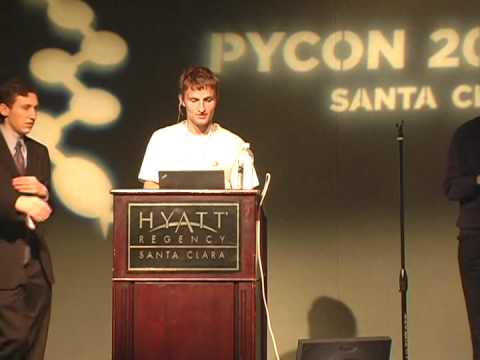 One of the goals of PyPy is to make existing Python code faster, however an even broader goal was to make it possible to write things in Python that previous would needed to be written in C or other low-level language. This talk will show examples of this, and describe how they represent the tremendous progress PyPy has made, and what it means for people looking to use PyPy.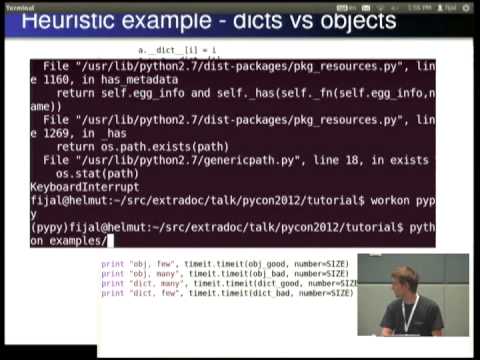 For many applications PyPy can provide performance benefits right out of the box. However, little details can push your application to perform much better. In this tutorial we'll give you insights on how to push pypy to it's limites. We'll focus on understanding the performance characteristics of PyPy, and learning the analysis tools in order to maximize your applications performance.
Python has a reputation for being a bit slow, but it doesn't have to be that way. This talk will cover why Python is slow, and what two of the most exciting virtual machines are doing about it.
Event:
ChiPy
Speakers:
Alex Gaynor
Recorded: July 8, 2010
Language: English
Last updated: November 24, 2013
Event:
PyCon US 2010
Speakers:
Alex Gaynor
Recorded: February 19, 2010
Language: English
Last updated: November 24, 2013